The global automotive aftermarket is expected to grow to more than US$ 1 trillion by 2022 and the sale and installation of automotive cybersecurity solutions offer new revenue streams for your business.
While tires, wipers and oil changes are the most commonly sold aftermarket products, there is a growing awareness of the cyber risks from infotainment systems, remote keyless entry, smartphone integration and more. Cyber risk is not the nightmare of tomorrow, it is the reality of today as the key fobs of Tesla cars and others are being hacked with iPads and tablets and stolen from parking lots and homes.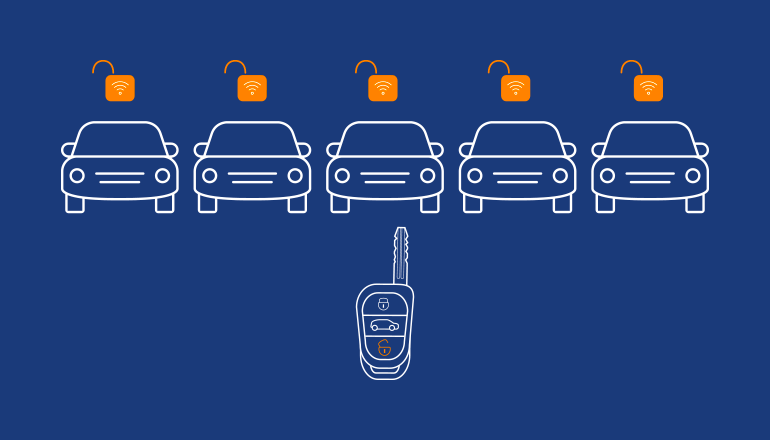 Connectivity has already created new revenue opportunities for automotive dealers. New cybersecurity technologies are now available for selling to customers as well as increasing the efficiency of dealerships and fleet owners while reducing their overhead costs.
KEYLESS ENTRY IS PAINLESS ENTRY—OR IS IT?
Gone are the days when metal keys were the only choice for opening car doors and turning ignition switches. Over the last several years, many vehicle manufacturers have replaced physical, metal keys with programmable keys that can remotely lock and unlock doors and ignition switches.
While these Remote Keyless Entry (RKE) devices are a major convenience for vehicle owners, they do not offer similar benefits for dealerships. The unique-key-per-vehicle model persists, and dealers must still perform daily maintenance of physical key inventories and carefully monitor access. Nor does RKE alleviate the hassle and overhead of managing dealer inventory or a fleet:
Taking deliveries of new cars or transferring vehicles to new owners still requires finding and using the correct, physical key
Returning keys to their proper place is still a headache
Locating lost or misplaced keys are a continued source of grief and wasted time
THE KEY TO SECURITY
The GuardKnox Local SNO™ is also available as an aftermarket cybersecurity solution that can enable dealerships and fleet owners to securely use a digital key to eliminate space- and time-consuming key inventories and inventory management, simplify key maintenance and vehicle access, and reduce related overhead costs.
GuardKnox enables secure yet simple and flexible keyless mobile access and management. With the GuardKnox Local SNO™ installed either in the OBD Port or behind, it enables dealership or fleet employees seamless yet secure inventory management and their own self-branded smartphone app containing secure identification information to quickly locate and unlock any of the vehicles on the lot.
PROVEN CYBER SECURITY TECHNOLOGY FOR THE AFTERMARKET "APP STORE"
GuardKnox Local SNO™ is based on cybersecurity technology for the high-security defense industry that has been customized for use in the automotive aftermarket. Quickly and easily installed behind the OBD port, the SNO™ controller delivers the security necessary to enable Remote Keyless Entry and other applications used internally by dealers or sold to their customers.
With the GuardKnox cybersecurity solution, dealerships and fleet owners can securely go "key free" in their day-to-day operations, using the RKE fobs only when accepting new inventory or transferring vehicles to new owners.
This new mode of work will allow dealerships and fleet owners to:
Easily move and manage inventory of cars
Alleviate the headache of returning keys to their proper place after each use
Eliminate the grief of searching for lost or misplaced keys
Secure RKE systems against hacking and vehicle theft
In addition, the SNO™ controller provides a cybersecurity foundation necessary for the future highly-profitable aftermarket "app store" that will help turn smart vehicles into personalized smart platforms like today's mobile phones.