Fleets
Maximizing the Safety & Security of School Buses and Their Passengers
August 22, 2019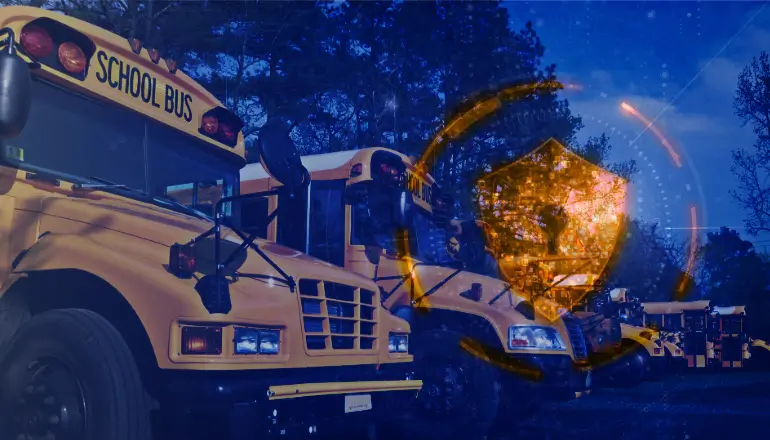 School Buses May Look the Same, But They're Not
Carrying 25 million school children each day, school buses are the USA's largest public transportation system. While school buses may still have the same familiar yellow look of our childhood, they have undergone significant technological improvements for fuel efficiency, child safety, logistics and much more.
Real-time bus information (location, speed, engine performance and more)Telematics technology has become a must-have safety solution for fleets of school buses throughout the USA as it provides:

Improved enforcement of safe driving behavior
Better pre-trip and post-trip safety inspections
Easy vetting and authorization of bus riders
Route optimization and reduced fuel consumption
Proactive school bus maintenance
Telematics is essentially a method of monitoring a vehicle and reporting on nearly every detail - from speed, to driver behavior to fuel usage. Indeed telematics are expected to be installed in 98% of all school buses by 2025.
The Hidden Risk of Telematics
Telematics, or the intersection of vehicle telecommunications and information processing, provides many benefits for connected fleets of school buses. One of the benefits of telematics—and an Internet connection—is the ability for just about anyone to view school bus location and conditions from just about anywhere.
While the term includes vehicle automation and might sound futuristic, telematics is something that is found in all school buses on the road today in the USA. (As well as in many private vehicles on the road. Some common functions that are included in 'telematics' are hands-free calling, GPS functionality, and assisted-driving/assisted-parking)
In simple terms, the school buses that are used by schools throughout the United States are highly connected vehicles, and have been for quite some time.
The benefits of connected school buses contributed to their adoption and their continual development and advancement: fleet managers can view data on dozens or even hundreds of buses from the comfort of their office; parents at home or at work can see that their child's bus is running five minutes late—or 5 minutes early; school bus drivers can review their own performance, use a checklist for safety inspections, vet passengers and more.
But Internet connectivity is not without risks. Like corporate computer networks or mobile phones, connected school buses are at risk from hackers and cyberthieves who could remotely access the telematics system and:
Steal personal and financial data of employees, schools or passengers
Inject ransomware and disable fleets of school buses in their garages
Most importantly, when school busses are targeted, the risk bleeds over to the physical safety of the passengers - the school children inside the bus:
A hacker can remotely hijack the buses in transit to modify how the vehicle behaves: disabling the brakes, disengaging airbags, shutting down the motor mid-drive
By accessing the GPS and navigation system through the telematics system, a savvy hacker could redirect an unsuspecting driver to an alternate location and then remotely shut down the bus, leaving the children and driver vulnerable
The risks of telematics for school buses cannot be ignored or treated as an afterthought when lives are at stake.
There are automotive cybersecurity solutions available today that can be implemented on a fleet-wide basis in order to maximize the protection of the millions of children who travel on buses each day.
GuardKnox: Deterministic Automotive Cybersecurity for Connected School Buses
The GuardKnox product line is compromised of comprehensive automotive cybersecurity solutions designed for protecting fleets of school buses from any type of known and unknown cyberattack. Adhering to the most stringent security and safety standards, including ISO 26262 and ISO 15118, the GuardKnox solutions include the:
Aftermarket Add-On that serves

as a gateway to external communication by wireless and wired interfaces enabling advanced connectivity features such as OTA updates, smartphone applications, in-vehicle entertainment, smart city services, OEM app store, and more.

Domain Controller Platform (Telematic) for protecting the commercial vehicle from the cellular Internet used by telematics and Fleet Management Systems (FMS)
Using the cybersecurity methodology that protects the world's most advanced fighter jets, the GuardKnox solution is completely autonomous and does not require external connectivity or on-going software updates. Its patented Communication Lockdown™ Methodology inspects and verifies all telematics traffic coming into the school bus network on three levels:
Of all fleet vehicles, none carry cargo as precious as school buses. Modern school buses offer technological solutions like telematics to increase efficiency and safety. But like other connected vehicles—which are literally computers-on-wheels—they must be protected against cyberattack.
In addition, GuardKnox's solutions add additional functionality and value to fleets that employ them: while school buses are unique in some aspects, their need for analytics and visibility into fleet statistics is similar to the needs shared by other fleet managers. (Trucks, non-school buses and even for trains.)
Similarly, predictive maintenance is a burgeoning need for fleet managers and, coupled with route optimization, can give fleets a cost-saving advantage by minimizing gas expenses, decrease wear & tear, maximize the lifecycle of the vehicle and its parts, and lower the overall operational costs associated with vehicle use.
Reporting, analysis and monetization of data to enable fleet-level visibility requires not only a secure in-vehicle landing point, but also a robust end-to-end secure solution to ensure data integrity and confidentiality.
Uniquely Designed for Integration by the Automotive Aftermarket
While the GuardKnox platform is easily integrated by OEMs and bus vendors, the GuardKnox Aftermarket Add-On is uniquely designed for installation by the automotive aftermarket and is an ideal cybersecurity solution for companies that specialize in telematics for school buses.
Placed behind the OBD using a standard vehicle connector, the Aftermarket Add-On does not require third-party integration, enabling aftermarket vendors to easily secure Fleet Management Systems (FMS) of school buses and other vehicles against ransomware infection and cyber-hijacking.
GuardKnox and Palo Alto Networks© Provide End-to-End Cybersecurity
GuardKnox can also form an end-to-end cybersecurity solution when used with the Palo Alto Networks® GlobalProtect™ secure communication channel. The encrypted communication channel from Palo Alto Networks® secures all telematics data in transit between the school bus and the remote systems, while GuardKnox protects the internal vehicle systems from hackers and ransomware.
This ultra-reliable cybersecurity solution alleviates fleet management companies, school systems and OEMs from the challenge of maintaining the security of the connected vehicle network and lets them focus on using telematics data for continuously improving efficiency and safety.
GuardKnox is also collaborating with DXC technology, a world leader in fleet management, to secure and monitor the data traffic between fleets of school buses and backend security operations center (SOC). The GuardKnox Aftermarket Add-On transmits relevant data and enables real-time monitoring and in-depth analysis of security-related events by DXC SOC analysts who are presented with well defined, targeted and actionable intelligence.
GuardKnox: Stand Alone Cybersecurity for Fleets of Connected School Buses
GuardKnox cybersecurity solutions are designed from the ground-up for protecting connected school buses and other fleet vehicles and are uniquely designed for installation by the automotive aftermarket. GuardKnox offers stand alone cybersecurity solutions with no comprises, operating without the need for Internet connectivity or periodic software updates, protecting connected school buses against all known and unknown cyberattacks.