Automotive Cybersecurity
The Open Secret for the Success of Electric Vehicles: How EV Charging Works
February 26, 2019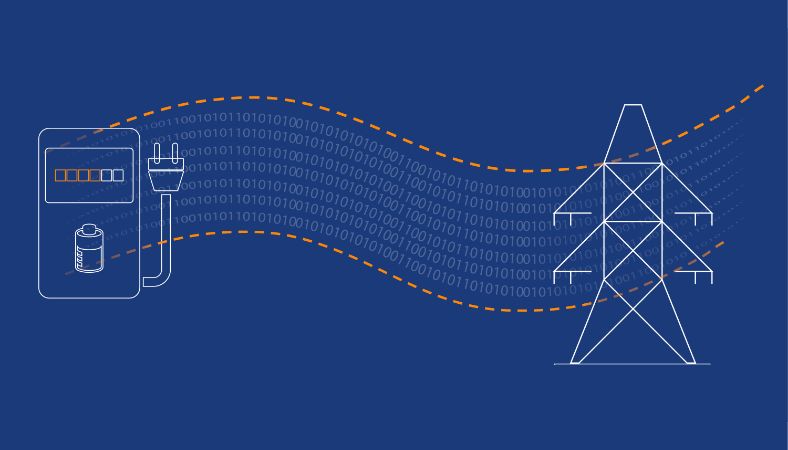 A Rapidly Growing EV Market
In 2017, global annual sales of battery-electric vehicles (BEVs) exceeded 1 million units and outsold plug-in hybrid electric vehicles (PHEVs) by a ratio of 2:1. The global population of battery-electric vehicles reached 3 million units at the end of 2017, representing about 0.23% of the global vehicle population.
By 2020, the sales of BEVs are expected to quadruple to 4.5 million units per year—around 5% of the overall global light-vehicle market. By 2040, the sales of electric vehicles will comprise 54% of new car sales worldwide.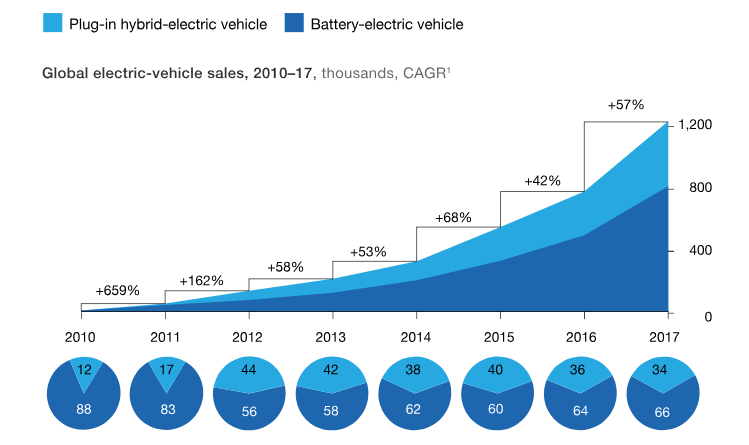 Source: McKinsey
Range Anxiety: The First of Many Concerns
When it comes to the future of BEVs, range anxiety is the #1 issue hampering their growth. According to a study by US National Renewable Energy Laboratory, EVs will need to travel 650 km (400 mi) per charge for a majority (55%) potential buyers to consider purchasing them. To complicate matters even more, weather, traffic, accessory use, load and driving style can influence EV range by up to 40-50%.
Fortunately since 2011, electric vehicle producers have succeeded to double the range per charge in their vehicles from 160 km to 320 km (100 mi to 200 mi). In Q3/2020, Ford is expected to release a fully electric SUV with a range of 480 km (300 mi).
Ultimately however, the mainstream use of electric vehicles will still depend on the ubiquitous deployment of EV charging stations and changes to the electrical grid to support the required power for recharging millions of EVs. These charging stations and the ecosystem that will interact with them--vehicles, payment systems, meterage systems, reservation systems,, etc. etc.--will all need to be supported against any type of known and unknown cyberattack.
Refilling an EV is Different Than Filling Your Gasoline Vehicle
Aside from the obvious difference of refilling a vehicle with flammable liquid fuel vs. an electric current, there is another key element of the refilling/refueling process that differs: today's EVs are most often recharged overnight while users are at home, rather than at stations on an as-needed basis. This is due to both the limited range of EVs and the scarcity of EV charging stations.
With the growth in the use of EVs, the electric vehicle charging infrastructure is rapidly growing—although a single standard for supporting the infrastructure has yet to emerge. The EV infrastructure market is expected to reach $140 billion by 2029 as 10 million public chargers and 50 million private chargers are installed globally.
Types of EV Chargers
There are three basic types of EV charging:

Level 1 chargers are essentially adapters or extension cords that are used to plug your EV into a standard US 120V home outlet. Delivering 120-volt charging and 1.4 kW/h of power, Level 1 chargers take 17-25 hours to recharge a car for 160 km (100 mi) of driving. This type of charger comes standard with all BEVs.

Level 2 chargers are special adapters for home use that deliver 208-240 volts and 6.2-7.6 kW/h of power and require a 240V outlet. These chargers take 4-5 hours to deliver 160 km (100 mi) worth of charge. This charger is often purchased with the electric vehicle, but it is usually an aftermarket item from Bosch or other companies and is sold separately.

Level 3 chargers are EV charging stations for public use and provide 20-50 kW/h and can recharge a vehicle in as little as 20 minutes, but not all vehicles can use Level 3 chargers.
New Types of Charging Stations
BMW and Porsche have recently unveiled a jointly developed "FastCharge" charging station prototype with superfast charging and an output of up to 450 kW/h. The "FastCharge" EV charging station can deliver 99 km (62 mi) of range in just three minutes—but this is currently theoretical as no EVs on the market can effectively handle that much of a charge.
By the end of 2020, Electrify America, the EV advocacy group, will deploy 500 Plug&Charge EV charging stations in the USA. The fast-charging EV charging stations are produced by Hubject, a joint venture between Volkswagen, BMW, Daimler, Bosch, and Siemens. Created as part of Volkswagen's court-ordered restitution, Electrify America will invest $2 billion over 10 years in Zero Emission Vehicle (ZEV) infrastructure and education and access for its part in willfully evading EPA pollution standards.
A Proprietary Approach to EV Charging from Tesla
Tesla, the EV and energy manufacturer, seems to have overcome range concerns with its longer battery range and very rapid battery charging speed. In 2017 and 2018, Tesla was the highest-ranked American car brand and eighth among all car brands in the USA. Selling more than 160,000 cars in 2018, the Tesla's Model 3 was the USA's best-selling luxury vehicle of any type (gasoline cars, EVs and even SUVs).
Key to Tesla's success is its proprietary home charging system with a 40V outlet that delivers up to 50 km (31 mi) of range per hour of charging and a full 480 km charge (300 mi) in less than 9.5 hours, i.e., overnight.
Away from home, Tesla Supercharger Stations have been installed at a limited number of work places and urban commercial areas. They deliver up to 145 kW/h of power distributed between two adjacent cars and a maximum of 120 kW/h per car. Supercharging stations take about 20 minutes to charge a Tesla to 50%, 40 minutes to charge it to 80%, and 75 minutes to charge it to 100%. Tesla Supercharger Stations are about 16 times as fast as public Level 2 or Level 3 charging stations for non-Tesla cars.
For long trips, Tesla's on-board Trip Planner automatically routes drivers to their destination via the company's coast-to-coast network of 1,441 Supercharger Stations and 12,888 Superchargers.
New Challenges for Cybercommunications & the Smart Grid
The electric vehicle market is dynamic high-growth market in which developing EVs for the mass market is still in its infancy. Manufacturing BEVs and the ubiquitous deployment of the charging stations are just two of many pieces need to support the transportation revolution already underway. Additional pieces include:
The billing, charging and transactional processes to support EV recharging
The power infrastructure changes that are required to meet the new power needs of EV-based transporting without compromising on grid performance
Solutions for both challenges require hardware and software-based cybersecurity to protect from many of the same risks already associated with connected vehicles, including cyber-hijacking of billing systems, vehicles or the grid; ransomware; stealing personal data, financial information or energy; and tampering with communications between EVs, billing and financial systems and grid-related infrastructure.
The GuardKnox Cybersecurity Foundation
GuardKnox's product lines offers comprehensive cybersecurity protection against any type of known and unknown cyberattack for the electronic vehicle ecosystem.
GuardKnox's Automotive SOA Framework enables customization of the vehicle and secured on-board data storage and processing for automotive manufacturers. The high-performance platform houses SOA and allows unified communication as well as access control and service level partitioning.
With a full software stack and hardware architecture, GuardKnox's patented technologies adhere to the most stringent security (ISO 15408) and safety (ISO 26262) standards. GuardKnox solutions comply with GDPR (General Data Protection Regulation) and provide holistic cybersecurity that easily fits the changing security demands of the rapidly growing EV ecosystem while overcoming the integration difficulties of software-only cybersecurity solutions.
The GuardKnox cybersecurity solution family is the foundational layer for added connectivity, services and personalization--creating an improved end-user experience and revenue generating opportunities for manufacturers. As a complete ECU, it integrates seamlessly into the vehicle, the value chain and the vehicle production process and offers an approach for securing the EV charging ecosystem.
To learn more about securing the EV market, stay tuned for our next blog on Vehicle-to-Grid (V2G) communications.