Ransomware
The Hidden Cyberrisks of the Tokyo Olympics
January 14, 2020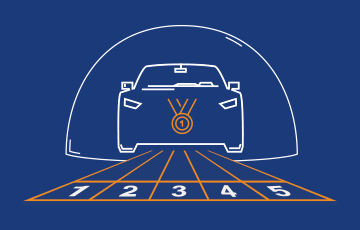 A Technology Showcase
The Olympics in Japan will be a technology showcase as the Japanese Olympic committee partners with leading Japanese companies to demonstrate the country's technological leadership. They will turn Tokyo into a smart city with the latest 5G communications, a facial recognition system, robotic guides for wheelchair-bound spectators, and more. In addition, the use of a variety of autonomous vehicles will serve as a prelude to the commercial deployment of autonomous vehicles by 2022, especially in rural areas of Japan that lack reliable public transit.
This won't be the first time that Japan has used the Olympics to highlight its new technology or to rollout new transportation infrastructure. Just days before the 1964 Tokyo Olympics, Japan launched its first bullet train ("Shinkansen") that whisked passengers from Tokyo to Osaka at an unprecedented 130 MPH (209 KPH).
A Multiplicity Of Autonomous Driving Solutions
Autonomous vehicles at the Tokyo Olympics will come in all shapes, sizes and levels of autonomy. There will be more than 3,700 mobility products and/or vehicles from OEM Toyota with many others from Nissan, Alsok and others:


The Toyota Concept-I
Olympic Security & Cybersecurity Threats
After the Munich Massacre at the 1972 Olympics and the Centennial Park bombing at the 1996 Atlanta Olympics, potential security threats to the Olympics are well-known. In preparation for the Olympic Games, Japan is spending $800 million on security.
But the risk of cyberattack is virtually unknown, even in light of the 2018 PyeongChang Olympics cyberattack that took 300 servers, 6,300 Wi-Fi routers and more than 10,000 PCs offline. The complete failure of the Olympics IT infrastructure plunged thousands of Internet-linked TVs into darkness, took the RFID-based security gates for all the Olympic buildings offline and even crashed the official Olympics app, denying access to digital tickets, schedules, maps, hotel information and more.
It took a painstaking 12 hours of intense work to repair. The network was repaired only by cutting it off entirely from the Internet and restoring servers from backups.
Connected and autonomous vehicles at the Olympics are no different than the networked computers that were hacked at the 2018 Olympics, but rather are even more susceptible to cyberattack vectors. Their Wi-Fi, Bluetooth, GPS or Internet connections put them at risk from hackers, cyberthieves and government agencies who can use numerous techniques to wreak havoc, including:
Denial-of-service (DoS) attacks, data theft or remote code execution (RCE)
Number spoofing, routing attacks, source address spoofing, and authentication attacks
Intercepting and decrypting communications with financial or personal data of thousands of attendees
and much more...
At the Olympics, hijacked vehicles could be used to kidnap visitors or athletes, sabotage the flame ceremony, run-over crowds of pedestrians or "merely" cause havoc with the transportation system. And of course, a hacked autonomous or connected car could be used to access the main IT network of the Olympics, the wider EV charging infrastructure--or even the electrical grid.
Cyber-hijacking of connected or autonomous vehicles is not science fiction. A few years ago, two white-hat hackers, Chris Valasek and Charlie Miller, remotely commandeered a Jeep through its Harman infotainment system and drove it off a busy interstate highway.
Automotive Cybersecurity
Fortunately there are automotive cybersecurity solutions that can mitigate the risks to connected and autonomous vehicles. The GuardKnox platform and various product lines offer a unique security approach that ensure the safety of vehicles and its passengers. A hypervisor ensures that numerous applications run securely by locking down all internal network communication so that they perform only the actions they're supposed to perform.
This approach to cybersecurity was developed to protect the world's most advanced fighter jets. Requiring neither external connectivity nor on-going software updates, it offers completely autonomous protection—making it an ideal cybersecurity solution and development platform for enabling autonomous vehicles to deliver superior, safe travel experiences.
With early planning and allocating enough resources, the autonomous and connected vehicles at 2020 Olympics can safely demonstrate Japan's technical prowess and their leadership position in developing automotive and transportation solutions.