Paradigm Shift
The New Automotive Paradigm at CES 2022: Key Highlights
February 3, 2022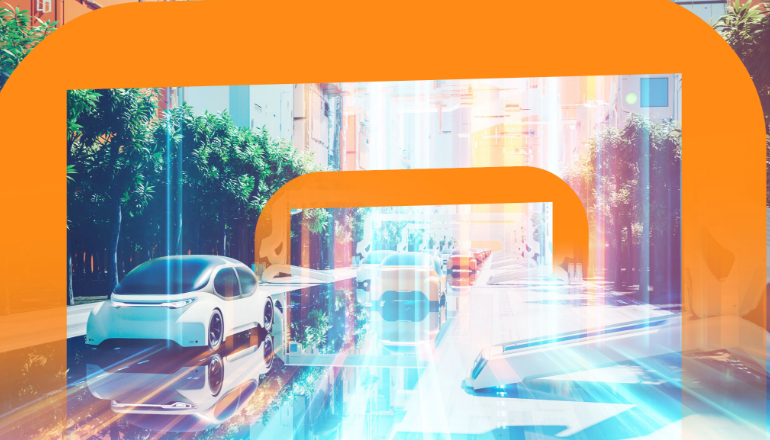 Known as the technology trade show of the year, CES 2022 did not disappoint on the automotive front. The new technologies unveiled during the 3 day hybrid (both in-person and online) conference in Las Vegas proved that driver experience continues to take center stage, with automakers rising to the challenge and devoting the resources necessary to innovate and meet the new customer demands.
The automotive paradigm shift is no longer a shift but a steady reality. It's grown beyond just the hot topics of electric vehicles and autonomous driving - the automotive industry is focused on developing new and improved software to power the new generation of cars equipped with the functionalities drivers crave.
From new software to improved screens and repurposed interiors, the following is a roundup of the most exciting revelations from CES 2022 and what they mean for the evolving automotive landscape.
Software Reigns Supreme
As cars transition from a simple method of transportation to more of a "smartphone on wheels," they rely heavily on innovative software.
Amazon Continues to Shine
It's not a technology party without Amazon, and the tech giant showed up strong at CES, combining its virtual assistant, Alexa, with the Fire TV streaming platform in order to upgrade the entertainment system in cars manufactured by Jeep, Chrysler, BMW and Ford. Fire TV will sync with Alexa so that both driver and passengers can use voice commands to start playing a movie. For those worried about what's happening at home, they can simply ask Alexa to display their Ring doorbell stream on the Fire TV.
Global automaker Stellantis announced a new collaboration with Amazon using the California-based tech titan's technology to develop new vehicles and connected experiences as well as to train the up and coming generation of automotive software engineers.
Indi One - Social Media Car
California-based startup, Indi EV, introduced its Indi One, touted as the world's first social media-oriented car. This car eliminates the need for a home office, providing an integrated computer with Windows that can easily handle Zoom meetings, record events to share on social media, and even capture content and video during a car trip that can be uploaded to the cloud.
Samsung In-Vehicle Experience
Samsung is upping their game and increasing their presence in the automotive space, offering their take on the in-vehicle experience. Taking a cue from Tesla, Samsung's product is based on cameras with sensors that monitor and analyze the surrounding environment. Their system also uses AR to provide passengers with access to a variety of services such as virtual calls and meetings, and map navigation.
The Newest in Screens
Screens in cars are no longer a novelty, but rather an expected part of the dashboard and even the backseat passenger experience. Several companies debuted major changes to the screens that we are used to:
BMW's Digital Art
While the original use for the dashboard screen was to display audio information and - in the fancier cars - the GPS navigation, BMW has really taken things to the next level with its Digital Art Mode. In this mode, the car's screens become a virtual art gallery letting passengers enjoy their drive in a new way as they travel the roads.
Stellantis Uconnect 5
Stellantis has moved their infotainment system to Android Automotive, which gave them the opportunity to redevelop the entire system with some flashy upgrades; for example, enjoying a new, bigger screen with a sharper resolution than available in previous models. But the real difference is in the speed: Stellantis managed to almost completely eliminate the frustrating lag that drivers often experience when making an on-screen selection and not getting an immediate response. The new display also offers personalization and the ability for two people who share a car to easily switch between their personalized home screens.
New Screen Designs
Mercedes Benz turned heads with their newly designed screen that runs clear across the dashboard from the driver's side to the passenger's side. For now, this is just a concept, but by next year it may be commonplace. Sony joined the party as well with it's new Vision-S 02, an electric SUV concept with an interior that is full of screens to provide next level content delivery.
Into the Metaverse
Through a partnership with Boston Dynamics, Hyundai plans to use screens in its vehicles to allow drivers and passengers to go beyond the actual road and into the virtual metaverse.
The Chassis Stands on its Own

Another new concept introduced at CES, what would it look like if the chassis was separate from the rest of the vehicle? This bold direction opened up a whole new world of possibilities.
The Citroen Skate is the prime example of this new concept, completely separating the hardware that moves the car and allowing it to power other things ranging from personal transportation pods to mobile hotel rooms and gyms. The motors can be charged quickly and the pods operate autonomously.
While Citroen is innovating a physical chassis, Renault and Qualcomm are working together to create the Snapdragon Digital Chassis. This is essentially a cloud-based chassis made up of telematics and other driver assistance platforms that automakers will be able to use to create a new generation of vehicles.
Is it a Car or a Living Room?
Not all of the attention at CES was on new automotive technology, of course. It's worth mentioning the newly designed interiors introduced by some automakers that also made caused a stir. Cadillac, for example, revealed its InnerSpace concept featuring a plush loveseat instead of two separate driver and passenger seats. This new level of comfort even includes a footrest and a place to keep slippers and a blanket - think first class airplane seat. The passenger side is treated to a wide curved screen, and even if you look twice you won't find a steering wheel or pedals.
BMW is planning to give backseat passengers the full movie theater experience with a 31-inch widescreen display. Once it's turned on, rear window shades automatically darken the car and passengers are treated to an immersive sound experience to accompany the visual display.
The Future is Now

The clear shift in the role and purpose of a car in automakers' thinking was on display at CES 2022 with new functionalities powered by connectivity and customizability for the vehicles of the future. Automakers are taking drivers' (and passengers') new expectations to heart with many innovative additions that will enhance the entire in-car experience. From access to Amazon's Alexa to the ability to attend a Zoom meeting to simply enjoying some digital art, never again will people dread long car trips.
The amenities in many cars will be getting an upgrade as well, including bigger screens on dashboards or even a movie theater experience in the backseat of the newest BMWs.
What still remains to be seen is how OEMs will overcome the challenges they face in making this transition to software-driven vehicles. Current methods require huge amounts of investment and still result in unnecessary wiring redundancies and other complications.
The most effective and streamlined way for automakers to redefine the industry development cycle and decrease the time and cost of bringing new ideas to market is to team up with the Cybertech Tier to ensure that they have the capabilities needed to produce vehicles that incorporate all of these new elements.