Fleets
Why You Need Fleet Management Security Today
September 25, 2019
There are more fleet vehicles on the road today than ever before. From delivery vehicles and trucks, to rental car firms and government agencies, the sale of fleet vehicles has climbed sharply since the financial crisis of 2007-2008. To reduce costs and improve safety and performance, many fleet owners are installing telematics that monitor vehicle performance and usage.
Unfortunately connected fleets of commercial vehicles, have a dark underbelly: they are at risk from hackers and cyberthieves who can use numerous techniques to wreak havoc. One possibility is to remotely access the vehicle's systems and inject ransomware into the fleet of connected vehicles, disabling them until the owners pay a ransom. Another is that cyberthieves could spoof or trick GPS navigation systems into misdirecting vehicles to remote locations where they could steal them or their contents. And of course, hackers could use the connected vehicle to access the fleet owner's corporate network and steal financial or personal data.
A Real Problem That Won't Go Away
While all of this may sound a bit far-fetched, cyber-hijacking is a real problem. A few short years ago (in 2015) two white-hat hackers, Chris Valasek and Charlie Miller, were able to remotely commandeer a Jeep on a busy interstate highway and drive it off the road by accessing the vehicle's driving systems from the Harman infotainment system (see the video).
What is less known about the Jeep cyber-hijacking is that in addition to targeting the Jeep Cherokee, Valasek and Miller also found 2,695 vehicles with a similar security flaw connected to the same mobile network segment. Since they had automated their attack with their laptop computer, they could have very easily—and very quickly—hacked all 2000+ vehicles.
But it's not just infotainment or telematics systems that can let hackers into a connected fleet of vehicles. Any system with Wi-Fi, Bluetooth, GPS or Internet connectivity—including federally-mandated Electronic logging devices (ELDs) for trucking and transportation fleets—is an open door for cybercrime.
According to the LA-based Consumer Watchdog group, more than two-thirds of the cars on US roads will have Internet connections to their safety-critical systems by 2022, representing a very serious security and safety risk. They note that while automakers have many economic motivations to connect vehicles to the Internet (such as over-the-air software updates), the underlying E/E architecture must be designed and engineered to limit the electronic connection between Internet-connected non-safety-critical systems and safety-critical systems.
As OEMs and Tier 1 vendors are beginning to brainstorm how to design newer and safer vehicle architectures, these safer vehicles wouldn't be ready for mass-market sale until at least 2023-2024—it would take until 2037 for half of the connected vehicles on the road to have this architectural defense.
So what can you do?
Aftermarket Cybersecurity To The Rescue
Connected fleets of vehicles need a cybersecurity solution that can be universally implemented across the entire fleet. Each and every vehicle must be secured since a single unprotected vehicle can compromise the whole fleet—just like a single unprotected computer can infect a whole network with ransomware.
But rather than using a "kill switch" recommended by the Consumer Watchdog group, fleet owners should look for a solution that enables vehicles to safely connect to the Internet. The Internet isn't just for the infotainment system or remotely starting your air-conditioning to pre-cool your car on a hot day. Connectivity to the Internet is critical for vehicle telemetry, GPS tracking, performance tracking, and more.
GuardKnox is an automotive technology provider that specializes in protecting the users of the connected vehicles against threats that can endanger their physical safety and the safety of their personal information. With more than two decades of experience in providing cybersecurity and secure by design solutions for the Israel Air Force, GuardKnox offers a variety of hardware and software-based secure automotive solutions for OEMs, Tier 1s and the automotive aftermarket.
Placed behind the OBD as a plug-in, the GuardKnox Aftermarket Add-On is easily installed in all existing commercial vehicles without third-party integration. Aftermarket vendors can use it to easily secure entire fleets of vehicles against ransomware infection and cyber-hijacking without any refurbishing or redesigning the car's network architecture.
In addition to its cybersecurity functionality, the GuardKnox solution includes an in-vehicle platform to securely store telematics data while enabling secure access to third-party AI and big data systems. This allows the increasingly large amounts of vehicle performance data (engine performance, routes taken, fuel consumption, vehicle speed, sudden braking, systems wear, etc.) to be efficiently processed within the vehicle—rather than transmitted over the Internet—and enables more cost-effective monetization of the data.
Safely Delivering Data To The Security Operations Center
With cyberthieves potentially looking everywhere for a way into your managed fleet, it's not enough to safely store and process the telematics data in the vehicle, therefore an end-to-end solution is required; the data must also be protected in-transit so it cannot be corrupted along the way or used to attack your Security Operations Center.
With mutual authentication and encryption, GuardKnox can send telematics data through the Palo Alto Networks® GlobalProtect™ secure communication channel. Using the Palo Alto® network for transmitting data to your Security Operations Center ensures that your data is fully protected from hackers and cybercriminals during transmission and that cyberthieves can't use it to launch an over-the-air cyberattack.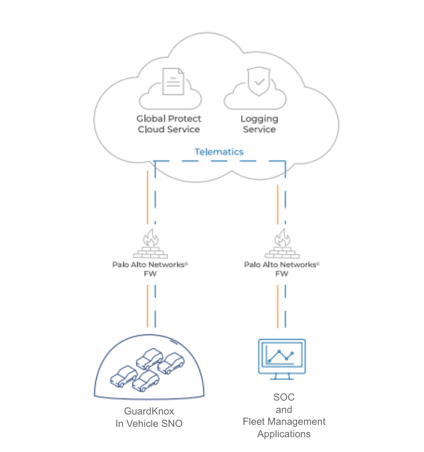 Collaboration With The World Leader In Fleet Management Security
GuardKnox is VSOC-agnostic and can integrate into any Vehicle Security Operations Center to enable VSOC providers to perform data mining, data analysis and monetization—a rapidly growing market that is expected to reach $750 billion by 2030.
In addition, GuardKnox has collaborated with DXC technology, a world leader in fleet management and Fleet Management Security, to secure and monitor the data traffic between fleets of commercial vehicles and their own backend security operations center (SOC). DXC analyzes fleet data for third parties to reduce fuel consumption, decrease vehicle wear and tear, lower operational costs and more, without the overhead and headache of physically maintaining a Security Operations Center.
The Imperative Of End-to-End Security
Connected fleets of vehicles already on the road face significant risks from cyberthieves and hackers. They require automotive cybersecurity solutions that can be easily implemented in the aftermarket with minimal business intrusion or downtime. The GuardKnox automotive cybersecurity solution is uniquely designed for aftermarket installation. Operating autonomously it secures all vehicle data and enables in-vehicle processing of telematics data before securely transmitting it to the fleet's security operations center.
Download a solution brief on GuardKnox/PAN fleet protection here.