Paradigm Shift
The Automotive Paradigm Shift on Display at CES 2021
January 28, 2021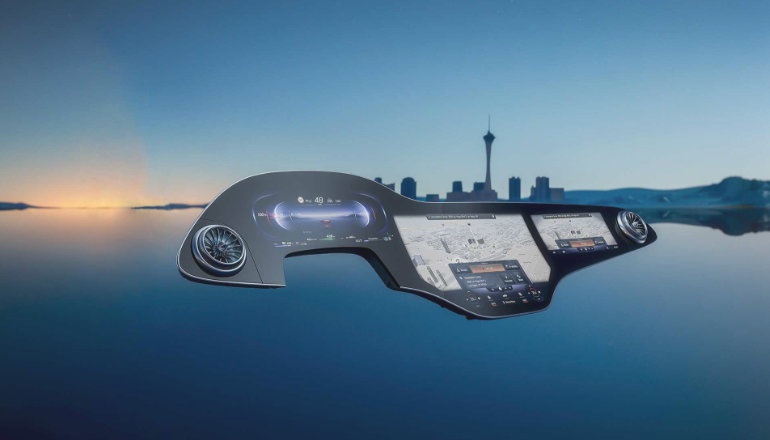 2020 may have ground the world to a halt in many ways, but the paradigm shift in the automotive industry has not slowed down. In fact, based on the displays at CES 2021, it's clear that the automotive industry is continuing to grow, and evolve, at record speeds.
"Telematics started with the simple idea of a consumer safety service which could help drivers speak directly to a representative to support roadside assistance. Since the establishment of that pioneering feature, OnStar has helped spawn a generation of ingenuity and connectivity that has led to Automatic Crash Response, Stolen Vehicle Tracking, Turn-by-Turn Navigation, Infotainment and eCommerce in vehicle services, and more. Despite the ongoing pandemic, this year's CES continued to showcase even more innovative products that the automotive world is providing for the future of smart transportation." Mary Chan, Board Member of Magna International, Senior Advisor Smart Machines Advisory Board Samsung Electronics, Managing Partner of VectoIQ and former President of GM Connected Consumer Group
We Want More Tech
It is this demand for a new driver experience that is powering the paradigm shift, a shift that is being facilitated by the Cybertech Tier. It's the Cybertech Tier that brings the technological know-how needed for OEMs to build the cars that meet the needs of 21st century drivers. Key presentations at CES indicated the commitment of OEMs to create the ideal driver experience, focused on technology, sustainability, personalization, and autonomy.
For today's drivers, it's less about the car itself and more about the user experience when driving it, including advanced infotainment systems. Daimler picked up on this trend and made their big CES announcement about a groundbreaking tech update rather than a new car model, emphasizing the importance of driver-centric experiences.

Daimler announced the MBUX Hyperscreen - a smart screen that uses artificial intelligence to take infotainment and comfort to a new level, offering drivers an intuitive and effortless digital experience. According to Sajjad Khan, CTO of Mercedes-Benz AG, development of the Hyperscreen focused on the needs of the customer, and the results speak for themselves: "the MBUX Hyperscreen understands the customer better and better and thus delivers a customized, personalized infotainment and operating offer before the user has to click on anything. This is customer orientation and digital thinking in 2021."
"No longer is the focus of automobiles to get drivers from point A to B. Drivers are expecting a fully connected and digitalized environment centred around them and its OEMs' responsibility to propel innovations forward to meet this demand. The car of tomorrow will be defined by its electronic capabilities such as the quality of its infotainment system, the ability to receive over-the-air software updates, and more. It's these cars, or more fittingly, these computers on wheels, that will be in high demand in the coming years."
Marcus Berret, Global Head of Industrial and Operations Practices, Global Head of Automotive Practice and Member of the Board at Roland Berger
EV is on Everybody's Mind
Sustainability is another hot topic that featured strongly at CES and that requires the assistance of technology experts in the Cybertech Tier. GM announced their vision of "zero crashes, zero emissions and zero congestion," the key to which is electrification.
To create more sustainable electric vehicles, GM created their Ultium battery system. This modular system provides 60% more energy capacity while taking up less space and can be expanded to fit a range of vehicle sizes and power requirements. It's this type of innovation that will allow GM to introduce 30 new EVs over the next 5 years.
GM's innovation is an example of Zonal Architecture (and its inherent modularity) in use, a key feature of the paradigm shift and a new E/E Architecture concept that reduces the number of ECUs and hardware components needed in a car, simplifying the wiring and lowering costs. While some automakers may be hesitant to transition to a Zonal architecture in existing models of cars, the development of EVs is the perfect opportunity to take advantage of the newest E/E Architecture that will only add to the sustainability of these vehicles.
It's All About the Driver
When it comes to the personalization and customization that today's drivers expect, it's no surprise that Sony - experts in home technologies - is focusing on user experience in their Vision-S sedan. With an assortment of driver-focused features, Sony's system is designed to collect and analyze data and then learn the driver's preferred temperature, music and even commonly driven routes. The driver simply enters the car and finds the interior environment and driving experience to be perfectly customized to suit his/her needs.
This is a prime example of another key driver of the paradigm shift - Service-Oriented Architecture (SOA). A SOA platform offers functionality as a service and can be provided by a Cybertech Tier Supplier, integrating hardware and software to deliver the advanced features that Sony (and others) are determined to offer their customers.
Speaking About Autonomy
Many automakers are ultimately aiming for the holy grail - fully autonomous cars. The development of autonomous cars is the pinnacle of collaborations between traditional carmakers and the Cybertech Tier because the technological needs are so complex.
The sheer number of such collaborations between OEMs, Tier 1s and tech companies announced at CES is evidence of the coming growth in this market. Geely has partnered both with Chinese conglomerates Baidu and Foxconn (the world's largest provider of electronic manufacturing services) in their efforts to enter the autonomous driving space. Geely has the design expertise and manufacturing resources, and they will rely on Baidu and Foxconn for intelligent driving technologies and expertise.
These partnerships, explained Geely CEO Daniel Donghui Li, are a result of the profound changes taking place in the global automotive industry and the recognition that Geely must "actively embrace change, build alliances and synergize resources to create greater value for our users".
"It has become increasingly clear that tech companies and traditional automotive companies need to synergize to bring consumers the next generation of software-defined vehicles that they are demanding. As part of our MIH EV Open Platform Alliance at Foxconn, we are continuing to gain pioneering partners which will promote and improve collaboration across the automotive industry."
William Wei, CTO of Foxconn
Partnerships will Abound
"There is no doubt that OEMs are experts in building automobiles, but to ensure their sustained success, we must nurture an environment which breeds technological advancements, particularly for drivers who seek more immersive, interactive experiences."
Sobhan Khani, VP at Plug and Play Tech Center
In the words of Sobhan Khani, VP at Plug and Play Tech Center, "After viewing the groundbreaking products presented at this year's CES, I am convinced that the relationship between cybertech companies and automotive manufacturers will unleash breakthroughs that will shock and awe customers."As we move into 2021, expect to see more cross-industry collaborations. Drivers want their cars to be personalized, fully immersive, and filled with high tech options and features, - including self-driving - while still focusing on sustainability. Adapting to this new reality, OEMs are realizing that they cannot do it alone and are seeking partnerships.