Automotive Aftermarket
Fleet Management Solution Is Only Half The Story: Retrofitting Commercial Vehicle Fleets With Fighter Jet Cybersecurity
September 5, 2019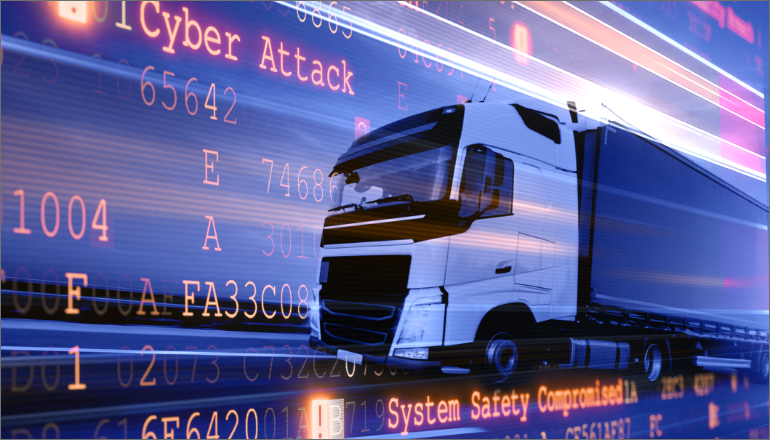 Vehicles on the Road are Both Older and Last Longer
While auto manufacturers use to be able to count on US consumers exchanging their vehicles every 4-5 years, this is no longer the case. According to the US Department of Transportation, the average car in the USA is 10.1 years old while the average commercial vehicle is 17.1 years old.
In addition to better engineering and robotic assembly lines, improved maintenance schedules play an important role in extending the life of vehicles. Older vehicles are served by a robust aftermarket that helps keep them stocked with newer technology, whether it's in-vehicle entertainment systems, Bluetooth, cameras and sensors, or navigation systems. Today's vehicles are better manufactured than ever, staying longer on the road and accumulating 150,000 miles (240,000 km) or more—and potentially up to 300,000 miles (480,000 km).
The aftermarket plays a critical role in ensuring that commercial vehicles can drive up to one million miles or more. Aftermarket systems such as telematics, electronic logging devices (ELDs) and fleet management systems bring significant benefits to fleet owners and insurance companies, including:
Improved enforcement of safe driving behavior
Route optimization and reduced fuel consumption
Better adherence to proactive maintenance
Theft deterrence and vehicle recovery
Are Older Trucks less Susceptible to Cyberattack?
Following the widespread coverage of the Consumer Watchdog group's report on the cyberrisks of connected vehicles, there is finally a growing awareness of vehicular cyberattacks.
Like corporate computer networks or mobile phones, connected commercial vehicles are at risk from hackers and cyberthieves who could remotely access the various vehicles systems to:
Inject ransomware into the vehicle systems and disable fleets of commercial vehicles
Gain access to whole fleet or corporate networks via a compromised vehicle and steal sensitive data
Spoof GPS and navigation systems via the telematics system
Remotely hack vehicles in transit and disable the brakes, release airbags, speed up the vehicle or even drive it off the road (see the video)


But unlike hacked computer networks or mobile phones, many people are physically at risk when a vehicle is hacked, including the vehicle's driver and passengers, the occupants of other vehicles, and even nearby pedestrians. A hacked commercial vehicle in a busy city center could do untold damage and potentially expose commercial vehicle drivers, fleet owners and insurance companies to heavy financial liabilities for failing to adequately address fleet security.


Fortunately there are automotive cybersecurity solutions available today that are designed to be installed by the aftermarket for retrofitting fleets of all ages, including older commercial vehicles, and are a good fit for fleet managers looking for cybersecurity fleet solutions.
GuardKnox: Fleet Security to go Along with your Fleet Management Tool of Choice
GuardKnox's product line of comprehensive automotive cybersecurity solutions are designed to protect fleets of commercial vehicles from any type of known and unknown cyberattack. Adhering to the most stringent security and safety standards, including ISO 26262 and ISO 15118, the GuardKnox solutions also support the SAE J1939 protocol, the de-facto communication standard used by electronic logging devices (ELDs), Fleet Management Systems and other commercial vehicle devices.
The GuardKnox product line is a perfect security complement to fleet management solutions and includes the:
Aftermarket Add-On that serves

as a gateway to external communication by wireless and wired interfaces enabling advanced connectivity features such as OTA updates, smartphone applications, in-vehicle entertainment, smart city services, OEM app store, and more.

Telematics Domain Controller for protecting the commercial vehicle from the cellular Internet used by telematics and Fleet Management Systems (FMS)
Using the cybersecurity methodology that protects the world's most advanced fighter jets, the completely autonomous GuardKnox solution does not require external connectivity or on-going software updates. Its patented Communication Lockdown™ Methodology inspects and verifies all telematics traffic coming into the school bus network on three levels:
Uniquely Designed for Retrofitting Commercial Vehicles
The GuardKnox Aftermarket Add-On is unique among cybersecurity solutions as it was designed for installation by the automotive aftermarket and is ideal for retrofitting entire fleets of commercial vehicles.
Easily installed behind the OBD as a simple plug-in, the GuardKnox solution does not require third-party integration and requires minimal business downtime for installing fleet-wide protection against ransomware infection and cyber-hijacking.
Complete End-to-End Cybersecurity with GuardKnox and Palo Alto Networks
GuardKnox can also form an end-to-end cybersecurity solution when used with the Palo Alto Networks® GlobalProtect™ secure communication channel. The encrypted communication channel from Palo Alto secures all telematics data in transit between the school bus and the remote systems, while GuardKnox protects the internal vehicle systems from hackers and ransomware.
This ultra-reliable cybersecurity solution alleviates fleet management companies, school systems and OEMs from the challenge of maintaining the security of the connected vehicle network and lets them focus on using telematics data for continuously improving efficiency and safety.
GuardKnox: Future-Proof Cybersecurity for Fleets of Connected Commercial Vehicles
GuardKnox solutions are secure by design throughout all phases of design and engineering to protect connected fleets of commercial vehicles. Uniquely designed to be easily retrofitted to existing fleets of commercial vehicles, GuardKnox solutions are installed by the automotive aftermarket post-production.
They offer autonomous cybersecurity with no comprises, operating without the need for Internet connectivity or periodic software updates, protecting connected commercial vehicles against all known and unknown cyberattacks.